How to use Discord in 2023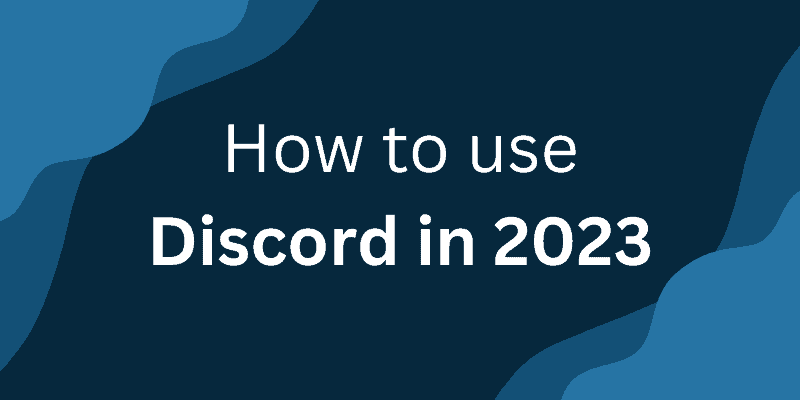 Discord is a popular communication platform that has been around for several years, and it's still going strong in 2023. Whether you're a gamer, a content creator, or just someone who wants to stay connected with friends and communities, Discord is a versatile and user-friendly platform that can meet your needs. In this post, we'll go over some tips and tricks for using Discord in 2023.
Join and create servers
One of the key features of Discord is its server system. Servers are like chat rooms that are focused around a particular topic or community, and they can be either public or private. To join a server, you'll need an invite link from someone who's already a member. You can also create your own server by clicking the plus button in the server list and following the prompts.
Customize your profile
Your Discord profile is a great way to show off your personality and interests. You can customize your profile picture, status, and bio to let people know who you are and what you're about. You can also link your social media profiles and other websites to your Discord account.
Use bots and integrations
Discord has a rich ecosystem of bots and integrations that can add all kinds of functionality to your server. You can find bots that can play music, moderate chat, provide news updates, and more. You can also integrate Discord with other apps and services, such as Twitch, Twitter, and YouTube, to automatically post updates to your server.
Use voice and video chat
Discord's voice and video chat features are some of its most popular. You can join a voice channel to chat with friends in real-time, or you can start a video call to see each other face-to-face. You can also share your screen or watch other people's screens to collaborate on projects or play games together.
Manage notifications
Discord can be a busy platform, and you don't want to be bombarded with notifications all day long. Fortunately, Discord has robust notification settings that allow you to customize what you get notified about and how. You can choose to receive notifications for certain servers, channels, or users, and you can also adjust the sound and visual settings for each type of notification.
Stay safe and secure
As with any online platform, it's important to stay safe and secure on Discord. Make sure you choose a strong password and enable two-factor authentication to protect your account from hackers. You should also be wary of clicking on links from unknown sources or giving out personal information to people you don't know.
In conclusion, Discord is a powerful and versatile platform that can help you stay connected with friends and communities in 2023. Whether you're a gamer, a content creator, or just looking for a way to chat with like-minded people, Discord has something for everyone. By following these tips and tricks, you can make the most of your Discord experience and stay safe and secure while doing so.